Pushkin Trust Celebrates 25-years of Creative Learning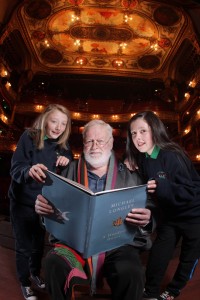 The Pushkin Trust has announced the start of its Silver Jubilee Celebrations with a concert featuring the musical talent of Belfast-educated Katie Melua. Over the last 25 years the Trust, founded by the Duchess of Abercorn, has provided educational programmes to support creative learning to over 50,000 pupils and teachers across the island.
Named after Alexander Pushkin, one of Russia's greatest literary figures, and a direct ancestor of the Duchess, the Trust began in 1987 as a creative writing competition for children.  Since then it has evolved into an educational programme involving many areas of the school curriculum including music, art, writing and the environment.
Katie Melua, a supporter of the Pushkin Trust, will headline a one-off concert – 'The Spirit of Pushkin in Ireland' – at Belfast's Grand Opera House on May 13th.  Among other items she will perform a specially commissioned song 'The Story's Magic' and will be joined on stage by pupils from both sides of the border.
The Duchess of Abercorn, founder of Pushkin Trust, said:
"Over the past 25 years, the Pushkin Trust has made a positive impact on over 50,000 pupils and teachers by helping them unlock their creativity.  Our school programme helps children explore their thoughts and imagination, giving them motivation and confidence that boosts their enjoyment and interest in learning. 
"The Trust also works closely with Teacher Training Colleges to help teachers provide creative and stimulating lessons.  
"Too many of our children fail to live up to their abilities – the Trust is an innovative and practical way of helping pupils see education in a different light and encourages them to aspire to make the most of their natural talents."
Katie Melua, singer and songwriter, added:
"I am delighted to be involved with the Pushkin Trust in this important anniversary year. The need for inspirational learning from a young age is vitally important and will help children to engage with their imaginations and find their voice. 
"The Pushkin Trust helps unite people, both children and adults, in this shared bond of creativity – I have already been inspired by the unique talents of the Pushkin pupils that I will be performing with on stage at 'The Spirit of Pushkin in Ireland', and I know they and I will take away something from this that will remain with them for the rest of their lives."
The Pushkin Trust, funded by grants and private donations, is supported by the local arts community, with patrons including renowned Northern Irish poets Seamus Heaney and Michael Longley.
Many past pupils in the programme have been inspired to work in a creative way in their future careers, most noticeably Snow Patrol singer, songwriter and musician, Johnny McDaid, who said:
 "I was writing and reading all the time as a child, but for someone to listen was the most important part. I was lucky enough to have been involved with the first Pushkin Prize when I was 11, and I was really inspired as a child by the idea that writing was something that I could do with my life. The Pushkin writing competition gave me a vehicle for creativity at that time."
The Pushkin Trust is a cross-cultural education programme and is seeking to expand internationally; it has already initiated a number of joint projects between schools in Moscow and Derry/Londonderry.  Its programmes have been particularly useful at helping children who have suffered educationally for reasons of communal conflict or social deprivation.
Other Pushkin Trust anniversary events include a 'Midsummers Evening' experience for Pushkin participants and supporters, a five-day 'Summer Camp of the Imagination' for children, teachers and parents, and the launch of an anniversary book dedicated to the Trust, its history, its success and its future.
Tickets for 'The Spirit of Pushkin in Ireland' are available from www.goh.co.uk or calling 028 9024 1919.