Katie Melua Stars in 'Magic' Concert with Local School Children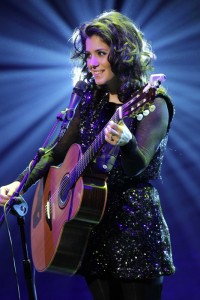 The Pushkin Trust has celebrated its 25th Anniversary with a one-off concert 'The Spirit of Pushkin in Ireland' featuring the musical talent of international singer and songwriter Katie Melua.
Belfast-educated Katie took to the stage at Belfast's Grand Opera House (Sunday, 13th May) to perform a number of songs from her well known albums including 'Call of the Search', 'Piece by Piece' and 2012 release 'Secret Symphony'. The BRIT Award-winner was joined on stage for her final song, a specially commissioned piece 'The Story's Magic', by 85 Primary School pupils from both sides of the border.
Georgian-born Katie said:
 "I was so excited to return to Belfast, my second home, and perform on stage with these wonderful young singers. This city inspired me to become the person I am today, and I know that the Pushkin singers will forever be inspired by their experience of taking part in this anniversary concert. 
"Through Pushkin, children are able to explore their imaginations and stories, helping to unlock their creativity and inspiration. Creativity in children is so important, particularly for our future artists, and I am delighted to be able to support a cause that continues to strengthen the bonds between educations and the arts."
The school children who sang with Katie performed a variety of dance, song and verse as they retold the Pushkin story, based on Alexander Pushkin, one of Russia's great literary figures who is regarded as the 'Russian Shakespeare'.
Over the last 25 years the Pushkin Trust has provided educational programmes to support creative learning to over 50,000 pupils and teachers across the island.  The Trust, founded by the Duchess of Abercorn, is named after her direct ancestor, Alexander Pushkin.
The Duchess of Abercorn, added:
"I started the Trust in 1987 as a way of enabling creative and personal growth of both children and adults. It all began with a creative writing competition which has now evolved into an educational programme involving many areas of the school curriculum including music, art, writing and the environment. 
"Over the last 25 years the Trust has grown and branched out in directions that I had never imagined and I am delighted with the positive impact it has had on so many children, teachers and student teachers throughout all of Ireland."
Other Pushkin Trust Silver Jubilee celebratory events include a 'Midsummers Evening' experience for Pushkin participants and supporters, a five-day 'Summer Camp of the Imagination' for children, teachers and parents, and the launch of an anniversary book dedicated to the Trust, its history, its success and its future.